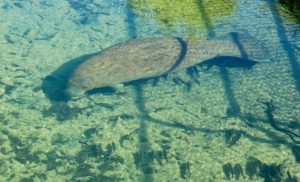 We left Manatee Springs without seeing any manatee but we eventually caught up with them in Homosassa, FL.
We're currently in Bradenton, FL. Not a lot to say here, the area is sketchy and we are jam packed in the RV Park.   Seriously we could reach out our window and touch the neighbor's RV!!!
Sarasota seems nice, we've been there a couple times.  Spent a day at the beach in Anna Maria Island.   Took a day trip to Saint Petersburg & Clearwater on Christmas thinking it'd be quiet considering the holiday boy were we wrong!
I miss my friends and family in Michigan but not the snow and cold and they're getting plenty of both, Sorry guys!